If the idea of combining a traditional beachside break with a few rounds of golf in one of the most picturesque parts of the country, then The Beachcroft Hotel in Felpham, West Sussex, is certain to tick some of your holiday boxes, writes Nick Bayly
While seaside breaks in the UK once had that slight whiff of Fawlty Towers combined with Hi-de-Hi! about them, things have thankfully moved on a bit since John Cleese was last seen whipping his beloved Austin Countryman with the branch of a tree on the streets of Torquay.
Where once it was all about two-star B&Bs and rows of amusement arcades, today's seaside resorts and coastal towns – while still catering for the 'bucket & spade' brigade – are more than likely to be offering boutique-style luxury accommodation and monkfish tempura with triple-cooked skin-on fries than they are a Punch & Judy show and a donkey ride while chewing on a stick of rock.
While the pandemic, with its ensuing restrictions on overseas travel, saw many of us having to return to the traditional British beach holiday for the first time in decades, for others it meant having to share the shoreline with a generation of tourists who had never experienced the highs and lows of a UK summer holiday, with its temperamental weather, shingly beaches and bracing waters.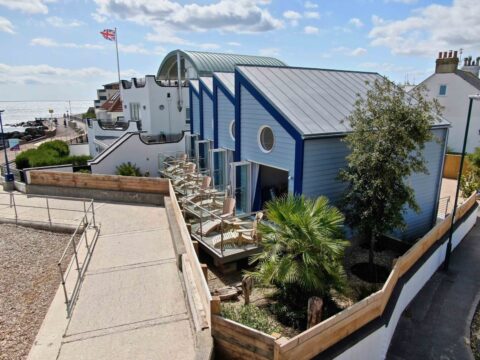 All that, and more, is on offer at Bognor Regis, the archetypal south coast seaside resort that looks out over the choppy waters of the English Channel halfway between Worthing to the east and Portsmouth to the west. Famed for its Butlins holiday resort and its long-since forgotten regal connections, Bognor was the setting for that classic 1980s coming-of-age film Wish You Were Here and has since gained a certain level notoriety as the host of The Birdman of Bognor, an annual event where people with a thin grasp of the laws of physics try to slow down their inevitable contact with the sea in a series of madcap non-gravity defying contraptions.
Just around the corner from all this mayhem is to be found the far more sedate village of Felpham, which, to be honest, has all but been consumed by the expansion of Bognor, but still manages to cling on to its own identity. And it is here, down a narrow lane that leads only to the shore, that you will stumble across The Beachcroft Hotel ­– an oasis of calm that offers a beguiling mix of warm hospitality and those endless views of the sea and sky.
The main body of the hotel – which has undergone a number of updates during lockdown, as well as a more extensive recent refurbishment programme to enhance the guest experience – offers 40 spacious, well-appointed rooms, including dog-friendly ground floor rooms, family sea view rooms with a private terrace and a luxury penthouse suite with balcony.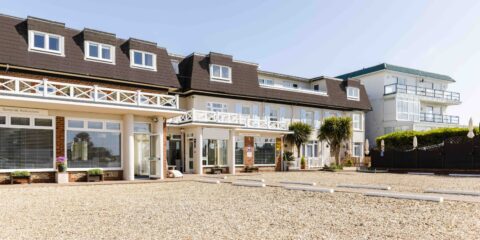 A wide range of family-friendly facilities, including a spa, swimming pool and gym, and a choice of excellent eating options, make the Beachcroft not only a great beachside bolthole in which to relax and unwind, but also the ideal springboard from which to explore the area. With miles of beachfront paths leading east and west, and bikes available to hire on site, you can leave the car behind and put pedal power into action to check out the locale, or, as I did, let your feet do the walking.
For couples, families and small groups looking for a little more privacy or an extra touch of luxury, the Beachcroft Hotel also offers a range of four Beach Hut Suites. Opened in 2019, and located just a few yards from the hotel, these stunning split-level apartments offer two bedrooms (mezzanine double bed and a bunk bed), bathroom, and a double height sitting room leading out to a private deck directly overlooking the sea. Kitted out with comfy sofas, Smeg fridges, coffee and tea-making facilities and big flatscreen TVs with Netflix, you could happily hole up in one of these for a few days if the weather turned inclement.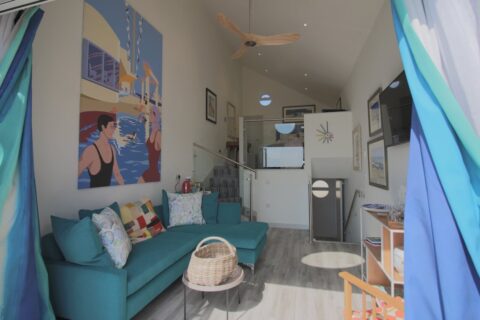 Breakfast is included as part of a stay in the huts, which is delivered fresh every morning as part of a breakfast hamper, while meals, including a fabulous fish and chip supper in a basket can also be delivered to beach hut guests.
If cabin fever sets in – which I highly doubt – the Beachcroft has three excellent dining options on site – the newly expanded garden terrace restaurant Blake's, with outdoor dining pods, offering light bites and traditional afternoon tea; Tamarisk Restaurant and Monty's Bistro, which serves freshly caught seafood dishes and traditional British fare. The kitchen will also happily rustle you up a splendid picnic hamper to take on your travels, whether it be by bike or by car, which I can also thoroughly recommend.
With dogs welcome in the beach huts and in several of the ground floor rooms, and with excellent service and friendly staff, for whom no request is too much trouble, the Beachcroft Hotel will restore your faith – if it needed restoring – that the days of Basil Fawlty and limp Waldorf Salads are, thankfully, long behind us.

GOLFING ATTRACTIONS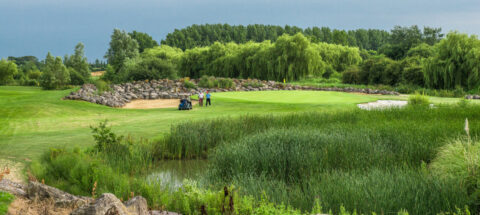 For golfers, the hotel and huts are situated just a few miles from always enjoyable layout at Bognor Regis Golf Club, while there are two 18-hole courses on offer at Chichester Golf Club 15 minutes further inland, and Littlehampton Golf Club's links/parkland style layout is just a few miles along the coast to the east.
My trip included a round at the Chichester Golf Club's Cathedral course, an 18-hole layout that first opened in 1990. Constructed during the height of the previous golf boom, when farmers were being encouraged to convert arable land into fairways, there is little to disguise its former use, but the Cathedral Course is a pleasant, easy-walking layout which offers a decent challenge to all levels of golfer.
Playing 6,442 yards off the whites, and 6,100 from the yellows, the par-72 course is rather front-loaded in terms of distance, with the opening nine playing 300 yards longer than the back. That is largely due to the 601-yard, par-five 5th, known as 'The Mother'. Miss the fairway by only a handful of yards on either side and you'll be fishing about in a red-staked ditch, ruing a lost ball and another lost shot. As if that wasn't tough enough, the fairway tapers in as you near the green and your second and third shots must be threaded between water hazards onto a tongue of fairway that is only about 30 yards wide. There's a reason this hole is stroke index 1 on the scorecard, and it more than lives up to the hype. The Mother is sandwiched between two formidable par-threes over water, which make the first nine one of the toughest in Sussex.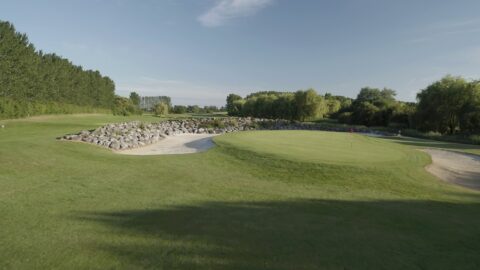 The back nine is more subtle, with two par-fives – the 12th and the 14th – both reachable in two for bigger hitters, while the short, but deceptive par-three 15th, framed with 300 huge Portland stones, and a raised green surrounded by sand, is perhaps the highlight. The card closes with three par fours, the short 16th and 17th both feature water and a narrow treeline to ensure that only the most accurate hitters will be rewarded with a sniff at a birdie, while the 18th is gently rising hole that requires a second shot to be hit over the corner of the treeline to reach the green. Overall, it's a decent course, with some interesting holes, but it's perhaps let down by its greens, which, although fine to putt on, lacked imagination, with few borrows or slopes to really get you thinking.
Chichester's other 18-hole course, the Tower, has a good balance of holes which make for a more forgiving alternative to the Cathedral. The spacious clubhouse offers an excellent selection of home-cooked food and local beers, while there is an 18-hole adventure course on-site for those looking to further test their putting skills.
Midweek green fees on the Cathedral Course start from £27, rising to £42 at weekends. To book a tee time, visit www.chichestergolf.com.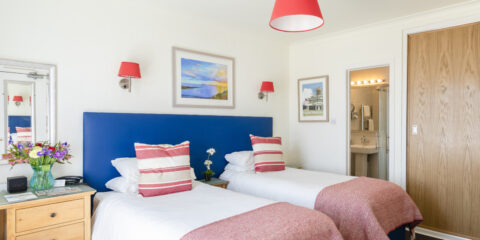 STAY & PLAY
Rates for B&B at the Beachcroft Hotel start from £126 B&B per night (only Sunday to Thursday) in a Classic Room based on two adults sharing. Classic Rooms (Twin/King) from £150 (Friday to Sunday). Classic Rooms with Sea View (Twin/King) £175. Classic Family Room Seaview (King & Bunks) £190 (2 adults, 2 children). Penthouse Suite Seaview with private lounge, dining and seaview terrace (with seating up to 8) up to four guests from £334. Beach Hut Suites, catering for up to four guests, start from £275.
For more information, visit www.beachcroft-hotel.com or call 01243 827142.