Just over three years after being rescued from almost terminal decline by charity Get Golfing, Pyrford Lakes Golf Club in Surrey has become one of the south east's most popular venues, where all golfers, from elite pros to complete beginners, are made to feel right at home, writes Golf News Editor Nick Bayly
As I walked the 100 or so yards from the overflow car park towards the clubhouse at Pyrford Lakes it became all too clear that this is a place on the up. Not only judged by the fact that I had to use the overflow car park on a Wednesday lunchtime , but also by the buzzing atmosphere in and around the vast clubhouse terrace, where dozens of midweek golfers were enjoying post-round hospitality in the afternoon sunshine.
Basking in the warmth, and with the low beat of a chilled mix track emanating from a range of external speakers, you could easily be forgiven for thinking you'd stumbled on a pool party at a cool Spanish bar were it not for the backdrop of the golf course and the giveaway shorts-and-polo shirt dress code of the clientele. While it isn't meant to rival an Ibiza beach club, it all combines to provide a refreshing change to the buttoned- up attitudes that still exist at all too many UK golf clubs, despite all the evidence pointing to a new generation of golfers preferring a more relaxed vibe that seems to be Pyrford's USP.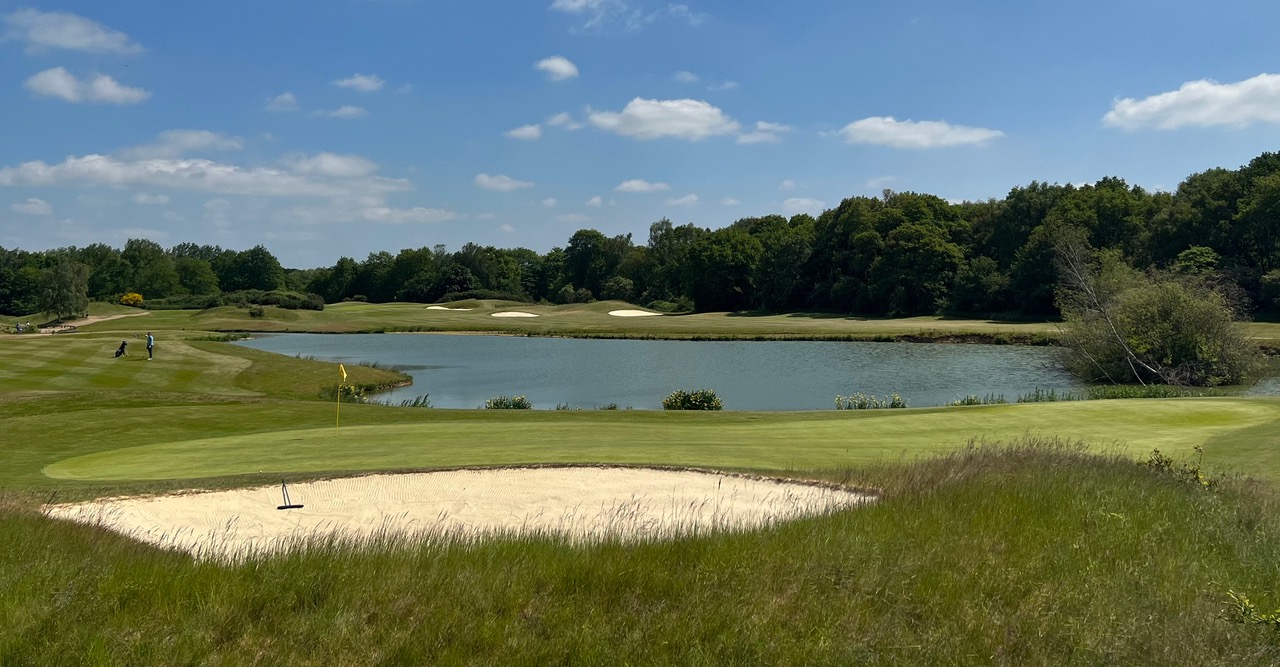 And that's how Get Golfing – which has been steadily building a portfolio of clubs in the UK that currently stands at nine – likes to do things. Set up in 2018, Get Golfing is a charity whose aim is to encourage participation and to deliver a positive impact on the physical and mental health of those who play, as well as to help reverse the recent trend of course closures. To achieve this, Get Golfing understands that it has to deliver the best possible course conditions and high-quality hospitality to attract players to its clubs. This is neither an easy nor an inexpensive task but, as a charity, it benefits from tax advantages that means it can invest in a club in a way that was not previously possible, while at the same time providing more affordable golf.
Pyrford Lakes has certainly benefitted from plenty of investment since it came under the Get Golfing umbrella in 2020. The new management team arrived just over three years ago to find a club that was virtually on its knees, with less than 250 members and a course that had been pretty much left to its own devices, with fairways lacking much in the way of grass, parched tees and greens, and bunkers that had been ravaged by weeds. For the few remaining members that had been playing the Clive Clark and Peter Alliss designed course since it first opened in 1993 it was a sad state of affairs, to say the least.
Fortunately, Get Golfing and its energetic CEO Ed Richardson, a veteran of the elite amateur circuit and an experienced club manager, knows what it takes to get a golf club back on its feet, and together with course manager Richard Covey and general manager Dan Lucking, the team set about rising this particular golfing phoenix from the flames.
Having spent his formative years at Hankley Common and Liphook, Covey has experience of preparing some of the UK's finest inland courses, and through hard work and access to Get Golfing's investment, he has succeeded in returning the course to a standard where the county unions are happy for the course to host tournaments, while a Clutch Pro Tour event is also in the offing.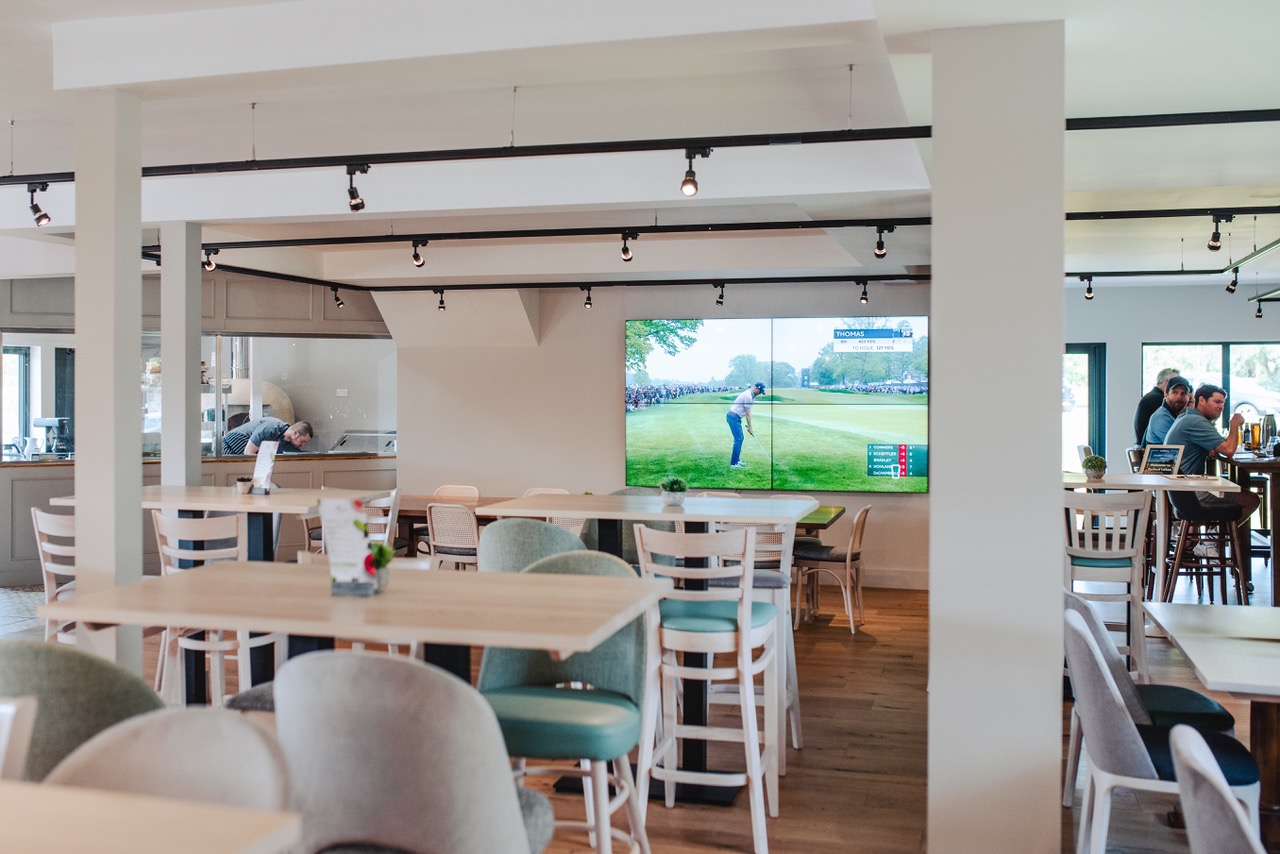 With the fairways now pristine, the greens running fast and true, and the bunkers benefitting from a full renovation programme, with raised faces making them more visible from the tee, conditions on the 6,235-yard links-style layout are just about perfect for the busy summer season that lies ahead. Ringed by mature woodland, giving it a lovely secluded feel, the layout boasts rolling fairways that weave between sculptured mounds, while 23 acres of lakes, fringed with bulrushes, reeds and lilies, give the course its distinctive characteristic with water ever-present.
Separated into two loops, providing a choice of starting positions, every hole is different and while the course may not be the longest by modern standards, a good score will require careful strategy and use of every club in the bag. Longer hitters may well be tempted to take on the challenge of longer carries, yet the design gives the less experienced player a safer route to make par.
While it is a specialist golf operator, Get Golfing recognises the importance of a club's social side, and in that respect it has left no stone unturned in the desire to make it a venue that you'd be happy to visit with or without your clubs. The light and airy clubhouse, whose transformation was celebrated at a big party on May 20, has benefitted from a complete makeover, with several rooms being repurposed to create a stylish and seamless experience that gives it a sports bar/leisure club vibe that feels welcoming and somewhere you'd want to hang out, whether for a post-round meal, a weekend brunch, a business meeting, or somewhere to watch a sporting event on huge flatscreen TVs.
The internal space is cleverly divided to provide a separate space for weddings and private parties, while a wrap-around patio overlooking the 12th and 18th greens almost doubles the footprint available for hosting members and visitors. Huge bi-folding doors enhance the feeling of space, creating a smooth transition between inside and out, while an open kitchen with a serving hatch that opens up to the patio provides the opportunity for golfers to grab a quick snack and a drink en route to the first or 10th tee. Two kitchens, including one with a wood-fired pizza oven and an Argentinian grill – show the ambition of the club to offer more than your standard sandwich platter and chips combo – although they can do that too – and shows why Pyrford is also proving a popular venue for those for whom chasing a small white ball has no appeal.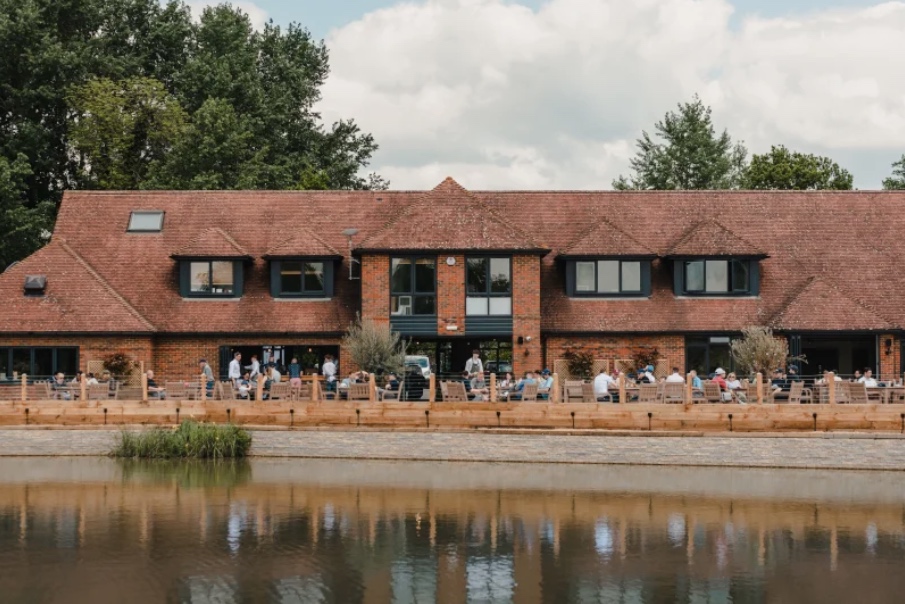 The improved course and the stylish clubhouse has proved an attractive proposition to golfers too, with the club now enjoying an extremely healthy membership of over 950, spread between 7-day, 5-day, Intermediate and Flexible members. The latter is a points-based scheme that enables points to be exchanged for tee times, with the number of points depending on day, time and holes played. It enables golfers to join the Get Golfing family for as little as £250, with points being able to be used at any of the company's other 10 venues, including nearby Hampton Court Palace, North Downs in Surrey, Redlibbets in Kent, and the most recent addition, Winter Hill in Berkshire.
Membership fees are paid by monthly by direct debit, and with no joining fee and no big upfront annual membership costs, the barrier to entry is kept low, ensuring golfers can find a membership that suits their budget and their schedule. In line with its remit to grow the game, Get Golfing doesn't charge a membership fee for juniors, so it's not surprising that the club boasts a strong group of U18s, with 170 youngsters enjoying the freedom to use the club's course and practice facilities at no cost, before hopefully staying with the club when they hit adulthood.
Whether it's to play golf – club, social or society – host a family or business function or simply enjoy a bite to eat, Pyrford Lakes ticks all the boxes and plenty more besides. But don't take my word for it – although you definitely should – come and experience it for yourself!
To book a tee time, visit golf.pyrfordgolf.co.uk/visitorbooking. To enquire about membership, visit pyrfordgolf.co.uk or call 01483 723555. For more information about Get Golfing, visit getgolfing.org