Henrik Stenson has been stripped of his captaincy of the 2023 European Ryder Cup team following the 46-year-old Swede's decision to sign up to the LIV Golf series.
A statement issued by Ryder Cup Europe said: "Ryder Cup Europe today confirms that Henrik Stenson's tenure as Captain of Team Europe for the 2023 Ryder Cup at Marco Simone Golf and Country Club in Rome, Italy from September 25 – October 1, 2023, has been brought to an end with immediate effect.
"In light of decisions made by Henrik in relation to his personal circumstances, it has become clear that he will not be able to fulfil certain contractual obligations to Ryder Cup Europe that he had committed to prior to his announcement as Captain on March 15, 2022, and it is therefore not possible for him to continue in the role of Captain. Confirmation of the new 2023 European Ryder Cup Captain will be made in due course."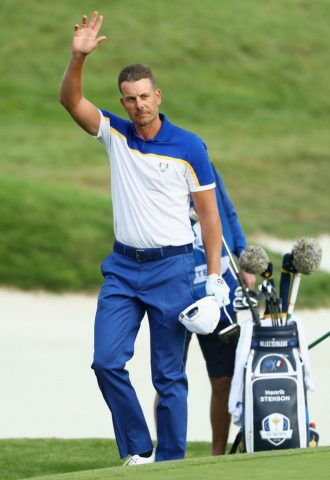 Luke Donald and Paul Lawrie were both under consideration for the 2023 Ryder Cup captaincy before Stenson was announced, although it also understood that Thomas Bjorn, the 2018 winning Ryder Cup captain, could also be considered to reprise the role.
Stenson, who is understood to have received a $40m signing on fee for joining LIV Golf, later issued a statement expressing his 'huge disappointment' that the Ryder Cup committee had decided to withdraw the captaincy from him, although he said the he 'accepted the decision' despite not agreeing with it. 
In a statement posted on social media, Stenson wrote: "After much consideration, I have decided to join several of my fellow professional and play in the LIV Invitational Series starting at Bedminster in a week or so' time.  My interest in this concept has been well documented over the past few years and despite some of the unfortunate and ongoing tension between LIV Golf, the DP World Tour and PGA Tours, ultimately, the opportunity to play in LIV events moving forward is something that I want to experience."
He added: "As many of you will have already seen, unfortunately my decision to play in LIV events has triggered Ryder Cup Europe to communicate that it is not possible for me to continue in my role as Ryder Cup captain. This is despite me making specific arrangements with LIV Golf, who have been supportive of my role as captain, to ensure I could fulfil the obligations of the captaincy. While I disagree with this decision, for now it is is a decision that I accept. I have huge respect respect and admiration for the Ryder Cup and those individuals behind it who I know are doing their utmost to act in the best interests of the historic event."
Adding that his decision to play in LIV events has been, in part, "commercially driven", Stenson finished by saying: "It is is a shame to witness the significant uncertainty surrounding the Ryder Cup, who will be eligible to play etc. I sincerely hope a resolution between the tours and its members is reached soon and that the Ryder Cup can act as a mechanism for repair amongst various golfing bodies and their members. It goes without saying that I remain on hand to support Ryder Cup Europe in any way I can and very much hope the opportunity to represent Team Europe in some capacity will come my way again at some point in the future."