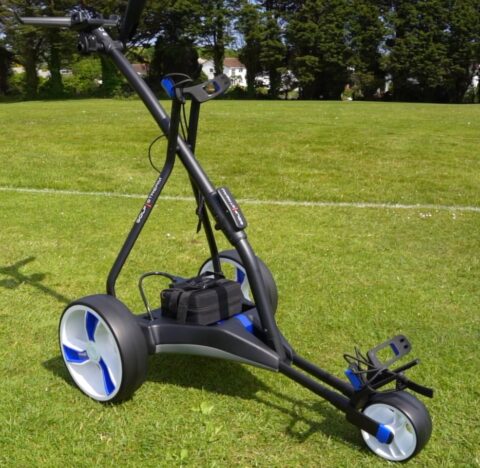 Golfstream, Europe's leading supplier of powered golf trolley spares and lithium batteries, has launched a new electric trolley which promises to simplify the power trolley experience without any loss of performance from the basics of transporting your clubs safely around the course.
Turning the button clockwise moves the trolley forward and vice versa to reduce the speed, press the button again to turn the trolley off. Another press and the Blue will resume at the speed it was set at when the trolley stopped.
Managing Director Derek Richford said: "Increasing numbers of golfers in all age groups are using electric golf trolleys to transport their clubs and golf gear around the course. More and more golfers tell us that, whilst all the technology in the handle can be useful, it is available through other products that they already have in their bag, all they want is a golf trolley that is reliable, easy to set up and straightforward to use."
The Golfstream Blue is perfectly placed to meet their needs. Add in our renowned one click open and close system, easy on/off wheels, Caddycell battery that comes with every golf Golfstream Blue and a golfer could not ask for a simpler solution for getting their golf clubs around the course.  We are delighted with the result, and I suspect there isn't a simpler electric golf trolley to be found anywhere."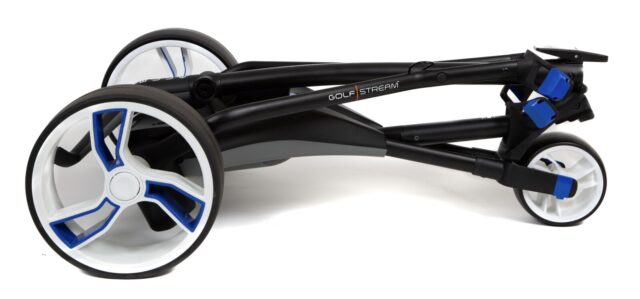 All Golfstream trolleys benefit from a one-click open and close mechanism which takes a trolley from prone to ready to use in less than a second. From the folded position a golfer simply lifts the handle and the trolley is raised in one movement into the playing position, clicking reassuringly into place.The golf bag rests in a cradle situated on the main spine and remains firmly in place throughout the round without twisting or buckling, even over rough terrain.

To set down, the golfer presses once on the folding mechanism and the trolley collapses to the folded state. Once there, an in-built magnet holds the trolley firmly in the closed position for easy carrying. Made of strong, lightweight aluminium the Golfstream Blue boasts a compact 3-wheel design and easy on/off main wheels for quick maintenance and cleaning, a non-clog front wheel design is a boon in wetter playing conditions.

With a fold down height of just 280mm with the wheels on the Blue is compact enough to fit into the majority of car boots and its light weight, at just under 9kg, makes easy work getting the trolley in and out of the car.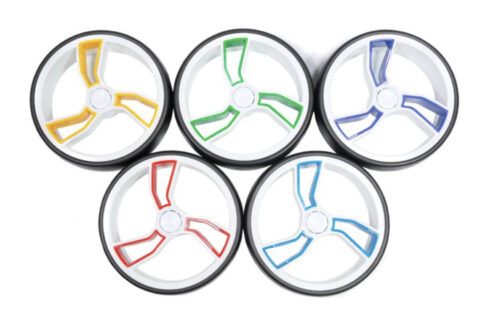 The Blue's 230w whisper-quiet motor carries clubs with ease across all terrains with traction coming from high-grip PU tyres that are five times more durable than normal tyres, and which provide a super-smooth, cushioned ride for clubs and valuables. An 18-hole lithium CaddyCell LifePO4 battery, which is supplied as standard, sits in a sleek platform that is conveniently designed to take all other popular brands of 12volt batteries.
For complete customisation, the trolley is offered with five wheel trim colour options and has an RRP of £469, with an 18-hole lithium battery included.
For more details, and orders, visit www.golfstream.co.uk.