14-year-old Liam Thorne has become the first winner of the Georgia Hall Junior Open Series.  Liam has enjoyed incredible success across the series, picking up prizes at 3 of the 5 events.  He won the final event of the series, the Manor Masters held on The Manor Course at Bramshaw Golf Club, with an impressive score of 42 points to take the title and finish at the top of the Georgia Hall Junior Series Order of Merit.
The Georgia Hall Junior Open Series is made up of 5 events hosted at Paulton's Golf Centre and the Forest Course and the Manor Course at Bramshaw Golf Club.  The series has attracted young golfers from wide and far, with Jayden Tucknott hailing from Royal Guernsey GC winning the gross competition.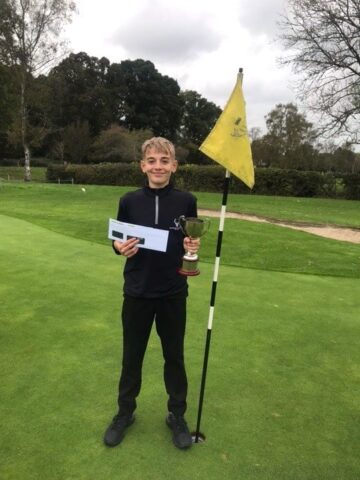 Liam, who won the Bramshaw Junior Mini Masters 2 years ago, has had a fantastic year achieving all of the goals he set for himself before the season began.  He explains, "At the start of the year I decided to start taking my golf more seriously. I set myself 3 goals. To win the Order of Merit, The Manor Masters and get my handicap down to the low 20s.  I am very proud to have done all of these."
"We want to create more opportunities for youngsters to play golf in the region," commented Bramshaw Golf Club's General Manager, Molly Pavey.  "This is a vision that Georgia shares with us, which is why we have opened an Academy and Open Series in her name.  The Open Series is important as it provides a competitive experience for young golfers of all ages and abilities, and we look forward to seeing Liam defend his title next season."
The Paulton's Golf Centre, home to the new Georgia Hall Academy, has already welcomed hundreds of youngsters from across the county to its 10-week beginner sessions.   Plans are already in place to develop the facilities currently available at the venue, and to attract more children and women to the sport in 2024.