Europe banished the memories of its record-breaking defeat two years ago with a comprehensive 16.5-11.5 victory in the 44th Ryder Cup in Rome – although there were times on Sunday afternoon when the result hang agonisingly in the balance.
The five-point margin of victory – the same deficit that after the end of play of the two previous days at Marco Simone – doesn't tell the full story of the drama that unfolded during the 12 singles matches, which is traditionally USA's strongest format.
Needing just four points to secure the win, European captain Luke Donald front-loaded his team, putting Jon Rahm out first and Viktor Hovland second in the hope of gaining from early points for the home side.
Hovland made light work of out-of-form Collin Morikawa to secure a vital full point with a 4&3 win, and when Rahm ground out a half-point against world no.1 Scottie Scheffler with a two-putt birdie at the last from fully 60 feet, Europe were up to 13 points and within touching distance of an historic win.
And with the other top matches showing blue numbers early on, it looked like Europe would run away with it. But, as ever, the tide slowly turned USA's way and it soon became apparent that the results of some of the later matches would prove pivotal.
Rory McIlroy, playing in match 4, and Tyrrell Hatton in match 6, added two more points, the former seeing off Sam Burns 3&2 amid emotional scenes, and the latter dispatching Open champion Brian Harman 2&1, to take Europe to 14 points, but with Justin Rose losing to Patrick Cantlay in match 3, and Max Homa winning 1up against Matt Fitzpatrick in match 5, the host side were still a half-point shy of the total they needed and with the middle section of matches showing a sea of red.
Brooks Koepka, Justin Thomas and Xander Schauffele all won full points for the visitors in their matches against captain's picks Ludvig Aberg, Sepp Straka and Nicolai Hojgaard, to take the tally to 14-10, with four close matches still out on the course, the door was very much still open for a record breaking fight back.
Thankfully, as far as European fans were concerned, that door was firmly slammed shut when the unflappable Tommy Fleetwood, who was 1up in in match 10 against the out-of-form Rickie Fowler playing the 16th. And when the American found water off the tee on the driveable par-4 hole, and Fleetwood's drive landed 25 feet from the pin, it was left to the man from Southport to seal the vital point that took Europe to 15 points and overall victory.
And with 12th man Bob MacIntyre adding a 16th point with a 2&1 victory over US PGA champion Wyndham Clark, the stage was set for Shane Lowry to finish off the week by claiming a half-point in a superb match with Jordan Spieth to wrap up the 16½-11½ win.
"It looked good early on for us, but then looked like it could be a bad day," admitted a teartful Captain Donald amid the throng of celebrating players, caddies, vice captains and backroom staff. "Our guys hung in there like I knew they would. The first two days were key to us to building our lead. The Americans are so strong in singles, but we were 12 strong. Everyone contributed. I just love these guys – you need your superstars to show up and they did. I've put everything into it and I'm just so glad they were able to win."
For McIlroy, who grabbed much of the headlines on Saturday night and early on Sunday morning following his car park spat with Patrick Cantlay's caddie, Joe LaCava, there was redemption for his disappointing performance at Whistling Straits in 2021 after bagging four points from a possible five in Rome.
Speaking after winning his singles match, McIlroy said that he had used the incident as motivation. He said: "I needed that to fuel me today and not let it take away from what's been a great week, and I felt like I used it to my advantage. I came out here with a different level of focus, a different level of determination – I think, in a way, it gave the whole team a bit of fire in our bellies and I just wanted to win another point for Europe."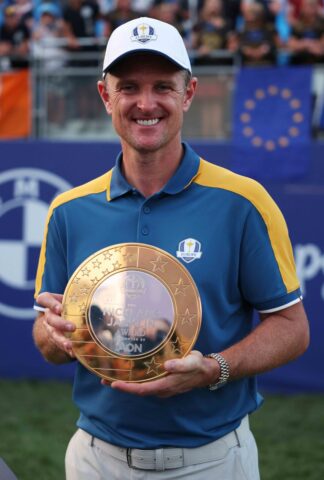 Elsewhere, Justin Rose signed off what looks certain to have been his last Ryder Cup appearance on a winning note that also included being the recipient of the Nicklaus-Jacklin Award for being the player that most represented the spirit of the Ryder Cup at this year's matches.
Rose said: "Winning this award is a huge compliment. This event really pushes you to the limit because it has so much passion. You have to find that line and get close to it, but always stay on the right side and be respectful towards your opponent. The Americans played their heart out today and deserve a lot of respect. Novak Djokovic gave the team some advice earlier this week and really emphasised how you need to embrace a pressurised situation and use it as inspiration. The putt on the 18th on day one was a good example of where I tried to embrace the moment – I didn't want to blemish such a great start by the team, and my immediate reaction was to embrace my teammates who had all performed so well as a group.
"The Ryder Cup is all about teamwork and I managed to put together a strong partnership with Bob [MacIntrye]. I made some putts at the right time on the first two days that made me look heroic, but he chipped away constantly and made a big contribution just when we needed to keep the momentum going. Winning this award will make today's victory even sweeter for me."
For America, the post-mortem will no doubt begin on the flight back home, with question marks hanging over why they haven't managed to win an away leg since 1993, and why a group of such talented players once again seemed to perform below par in the foursomes format of the game, which they lost 7-1.
With the PGA Tour's 2022-23 season ending five weeks before the matches, there will also be questions asked as to why so few of the team decided to play in the Fortinet Championship; why all of the team hadn't decided to come over to Marco Simone to get a sighter of the course, and why some clearly out-of-form players were picked as wildcards in favour of those with more recent form to their names.
US captain Zach Johnson was quick to back his players and praise Europe's strong performance, but admitted that some of his own decisions may have contributed to the team's downfall.
"If I have any reflection right now it's that you take your hat off and tip your cap to Team Europe and to Luke – they played great, they earned it and I was very impressed with them," he said. "We got outplayed but we showed grit, we showed heart and it got interesting there for a while. We had some momentum coming into the day and even some momentum during the day so I'm proud of my guys. It's on me and maybe some poor decisions. I can reflect at some point, I don't have any idea yet, but it's not about those 12 guys. They played so hard for each other and our country and I'm grateful for each and every one of them."
But all the recriminations are for another time. For now, Team Europe can simply bask in the glory of recording yet another big win on European soil.