The Callaway Warbird Ball moniker is now associated with speed and distance in the brand's line of balls, and this continues to be its main objective with Callaway's newest model. It employs a two-piece design featuring an oversized, high-energy core that enhances distance with a high launch at varying swing velocities.
If you usually play with a high-end model, there's no questioning you'd recognize the distinct firm feel the Callaway Warbird ball delivers upon impact. It gives an intense sensation with the driver, providing a powerful flight trajectory alongside abundant roll – suggesting that increased driving distance is certainly attainable.
The Callaway golf balls are among the top best golf balls for beginners, you can read the full review on the Athletesite website.
The enhanced distance becomes particularly noticeable when swinging irons, and especially wedges. Adapting to the bonus five or six yards might require some time, but if you start going over the green occasionally, you can take it as confirmation that the ball is performing its job – sort of.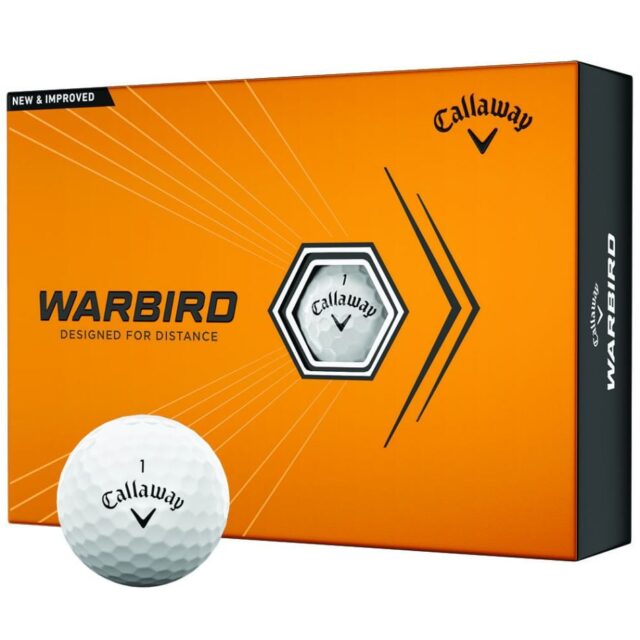 We've gone through this, so if you choose to utilize Callaway Warbird Ball, you might need to adapt and come up with fresh yard measurements for each club in your set. In terms of sensations, it won't give you the same feedback as a top-notch Callaway Balls – but what kind of short game efficiency can you anticipate?
Callaway asserts that the ionomer cover enhances touch and precision in the short game; this was somewhat demonstrated, albeit not as tacky. Nevertheless, the average golfer should find its feel satisfactory, and it showed decent responsiveness from distances of 100-120 yards. When struck nicely, wedge shots halted reasonably fast. It doesn't have a ton of spin, but there's a certain amount of backspin available.
The Warbird logo on the green, which includes an arrow on each side of the text, was beneficial for positioning. While this might be unintentional, it could be exploited for benefit. Callaway Warbird Ball also boasts notable longevity. Despite numerous situations where it could have been scratched, it appears to withstand an occasional bad hit without significant damage.
Benefits of Callaway Warbird Ball:
I am thrilled by the range. The ball travels rapidly and smoothly with the driver and irons on several strikes.
Durability: This ball exhibits excellent durability. As a two-piece ball, it can endure several rounds without considerable damage to its surface. It's beneficial to be able to use the ball more than once.
Color Options: The Callaway Warbird can be chosen in two shiny hues – white or yellow. The conventional white color is available and the distinctive yellow variant can be visually picked up even from considerable distances.
Alignment Assistance: The alignment tool on the ball is straightforward and efficient. Simply place it, align it, and swing – it doesn't require excessive thought before a putt.
Audio: Although I'm not fond of the hard texture of the golf ball, I appreciate the "click" noise it makes when used for putting. This auditory feedback seems to assure me that I've struck it accurately, thereby boosting my confidence.
Cons:
The Warbird is a two-piece, hard ball designed specifically for distance and straight trajectory. Although it may not provide a soft feel, it is nonetheless easy to hit.
Green Spin: This ball isn't designed to spin significantly. Its primary design enhances its range and its ability to launch at a high altitude, which is indeed achieved.
Value for the money vs. other options
The Callaway Warbird is an affordable golf ball that performs well, providing impressive features despite its low cost. While there are numerous alternatives in this price range, the Warbird is slightly less expensive per dozen compared to leading budget-friendly golf balls such as the Titleist Velocity and Srixon Distance.