OLIVIA McMILLAN: I am delighted to be joined by our newest AIG Women's Open Champion, Lilia Vu. Congratulations. You must be just feeling amazing.
LILIA VU: Thank you, yeah, it feels surreal to have this kind of Sunday and just to come out with a win, given the past couple months, I've been struggling with my game and just feeling good, and yeah, I'm really happy.
OLIVIA McMILLAN: Out there on the 18th green, the presentation, you had some huge praise for U.K. golf fans. What was it like playing in front of them today.
LILIA VU: They are just to is a amazing. My caddie usually has to do crowd control most of the time but everyone out here was so supportive and they clapped for really good shots and they are just the best.
OLIVIA McMILLAN: Talk to us about the round and what sticks out so clearly to you right now looking back at it.
LILIA VU: There's so much going on. I think I really kept to my one shot at a time. I don't really remember one single shot in particular but just playing my game.
Q. Can I ask you about the shot on the 12th, that seemed like a really key moment after Charley had made eagle on 11, what did that feel like?
LILIA VU: Yeah, I mean, she made a great eagle. It was so fun to watch. She's always super fun to watch and play with. She's great. I just knew that I was just going to play my own game because that's the only that I can control and I'm the best player at my own game, so I was just going to stick to that and just have fun.
Q. What were your emotions coming down the stretch with the big lead you had and how challenging was it to stay in the moment and not think about how close you were to winning?
LILIA VU: I didn't look too hard at the leaderboard. I wasn't really sure where I was at. I kind of knew that I was doing pretty well and I think I glanced at it on 16 green just to see was at but I was going to play my game the whole time, any ways.
Q. You are projected to move to world No. 1 with your win today. Is that something you ever thought about achieving?
LILIA VU: No. Honestly I just wanted to win golf tournaments out here on the LPGA. It's just been a crazy year for me, just doing pretty well at the beginning of the season and just hit a lull in the middle, just struggling. I thought at the U.S. Open after I played so bad, I didn't know if I could ever win again.
Q. You also clinched the Rolex ANNIKA Major Award. Michelle Wie West, the only other American to win that award. How does it feel to win that honour?
LILIA VU: I never even imagined that I would win that honour and to be here today with that is so amazing. I just really want to thank my team for believing in me and helping me get to this point.
Q. You have three wins in 2021 and then this is the third this year. You don't seem to have any fear in the sort of glare with having a winning opportunity. What is it that's your secret?
LILIA VU: Just playing my own game and just not getting in my own way. If I get in my own way then it just all crumbles from there. I think I came into this week with a good mindset. My team and I talked about just trying to be in contention on the weekend, and that's all I could do.
Q. So when you said not getting in your own way, have there been times when you have got in your own way and you've learned how to get the wins?
LILIA VU: I think I'm a bit of a perfectionist, so when I mess up on a hole, when I'm doing well on the weekend, I get really upset because I think the winning could go away just because of that bad shot or that bad hole. But that's not the case.
Everybody makes mistakes out there. It's just how you handle it because the next shot could be the greatest shot you've ever hit.
Q. You mentioned about the first two wins, obviously one being a major and you talked about it being a fluke. At what point might you believe in yourself? I know you had a bad part of the season but do you start to believe in yourself just a little bit?
LILIA VU: Yeah, definitely after this week, I mean, I was still just getting out the scar tissue from the U.S. Open and just playing so horribly there, and just not feeling like myself. I thought the Chevron and winning in Honda and Thailand, that was going to be it for me for my career.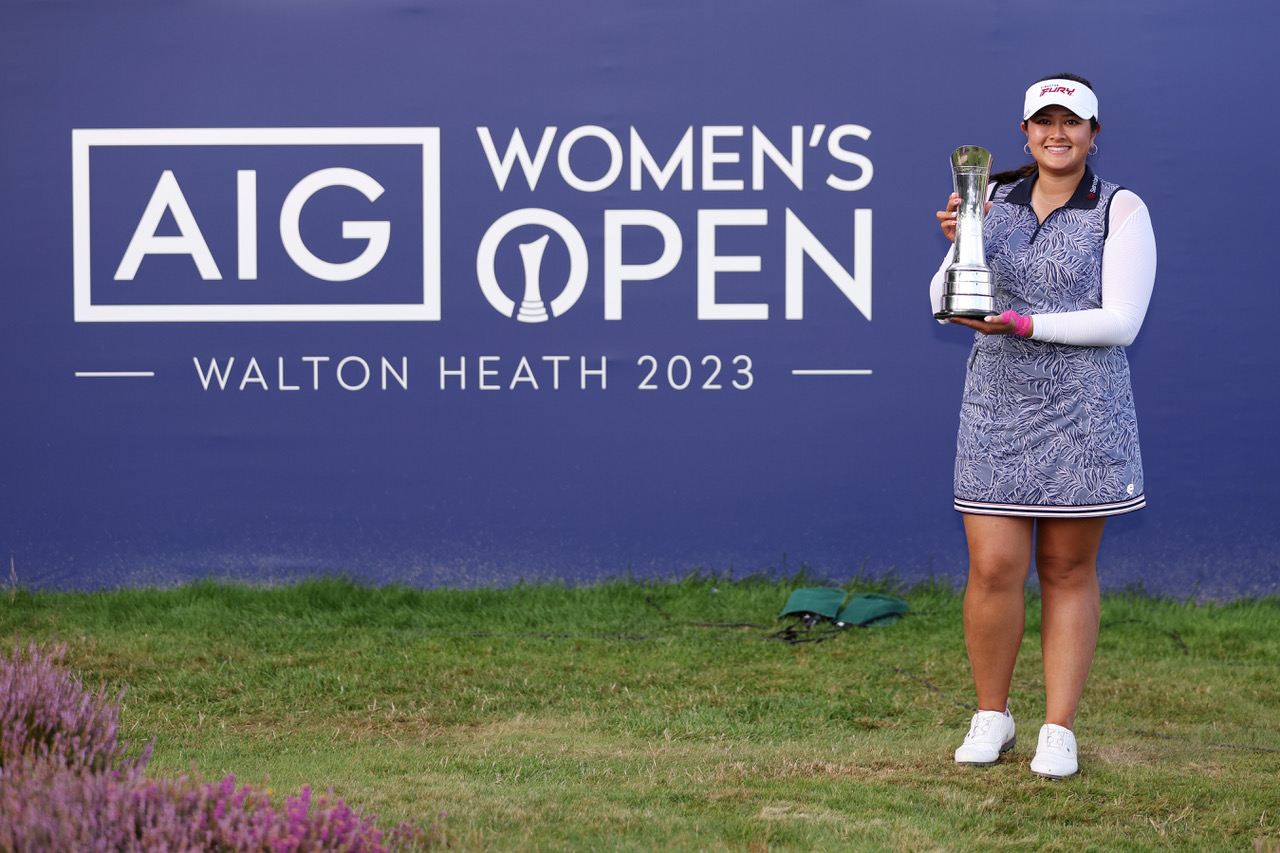 Q. Having turned pro in 2019, you won Symetra Tour events in 2021?
LILIA VU: Yes.
Q. Was there ever at a time when you were at a low during your professional career and your parents said, come along, you'll be fine? Give us an idea of what your family were feeling.
LILIA VU: Just a lot of things. 2019, my rookie year was really hard for me. I just put a lot of pressure on myself to perform really well and I would just get down on myself when I didn't. And then a lot of things, I just went back down to Symetra Tour and I couldn't even contend there. I was almost dead last at every event. I wanted to put the clubs away and maybe do something else, but my mom, she always told me I was good enough have to compete out here and be the best. She's really my rock and the reason why I'm here.
And then also, with my grandpa passing away at the beginning of COVID, and I remember I was on my way to a tournament. I had saw him in the hospital before I left, and he was okay. It was a little scare, and he told me just to go out there and play my best before my tournament. Meanwhile, he's sick and he's worried about me and my golf game.
By the time I came back, he had passed and those were his last words to me. I always think about that every single day. Even when I'm struggling out there on the course, I know he's out there with me just letting me know that it's going on okay.
Q. As a result of of this victory, you'll defend the AIG Women's Open at St Andrews in 12 months. How special is that for you?
LILIA VU: I am so excited for that tournament. I've been talking about it all week. I think I'm going to cry when I cross the bridge on 18, honestly.
Q. Have you been to St Andrews before?
LILIA VU: No, it's going to be my first time.
Q. What do you think it will be like, not only to play there but play there as the defending champion?
LILIA VU: I think it's going to be great. It's going to be so much fun.
Q. Sounds like you are quite hard on yourself and set yourself quite high standards. Can you talk about those standards that you set and your goals and ambitions and how winning the AIG Women's Open as an American has played into those goals and ambitions?
LILIA VU: I think I just set my goals really small and that's how I attain my bigger goals toward the end of the season. I actually write down my big goals at the beginning of the year and I put them away and just at the end of the year see if I hit them all, and usually I do. Yes, this is it.
It's been crazy. I think I just really narrow it down with the wig begins every single day what I have to do to get better. My team, they are the best people and they help me do that. I definitely didn't do this on my own.
OLIVIA McMILLAN: Speaking of big goals, after this within, you are projected to be world No. 1 and how does that fit in with those goals and how extra special does that make this win for you?
LILIA VU: Yeah, being the best in the world, that's just crazy to me, just thinking about the struggle I had this year and just to come out with that has been — it's just incredible.
Q. You stood by as if you see sort of canisters of smoke being thrown around the place all your life; it didn't seem to trouble you in any way when you were watching activities on the 17th green.
LILIA VU: Yeah, I was confused for a little bit there but that was handled quickly and I was well on my way to the 18th hole.
Q. Did you for a second think they were congratulating you?
LILIA VU: No, I just didn't know why they were on the green. I didn't want the lady to step on my line.
OLIVIA McMILLAN: It has been a pleasure to watch you play and win this Championship this year. Congratulations and best of luck the rest of the year. We look forward to seeing you in St Andrews.