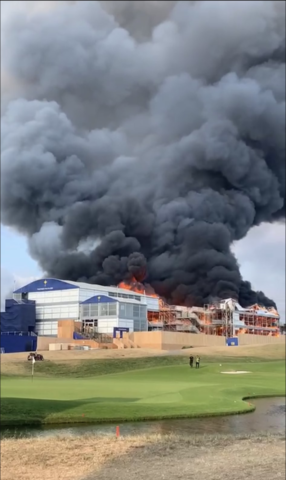 A huge fire broke out at Marco Simone Golf & Country Club in Rome on Thursday afternoon, just four days after the conclusion of the 44th Ryder Cup.
The fire took hold in a hospitality area between the first and 18th holes. Video footage posted on social media showed large plumes of black smoke billowing into the sky and flames engulfing more than half of the temporary three-story structure.
Although damage to the unit appears to be extensive, Ryder Cup Europe issued a statement confirming that no injuries have been reported and that firefighters, who were called to the scene at 5.07pm, managed to contain the blaze before it spread to any other temporary structures or permanent buildings. The golf course did not sustain any damage.
The cause of the fire is currently being investigated.