Tiger Woods narrowly missed out on victory on his return to competitive golf after coming second at the PNC Championship tournament in Florida.
Woods, partnered by his 12-year-old son Charlie at the family-focused event, reeled off 11 consecutive birdies to finish on 25 under – two shots off winners John Daly and his son, who is also called John.
Woods was playing in his first event since suffering career-threatening injuries in a car crash 10 months ago.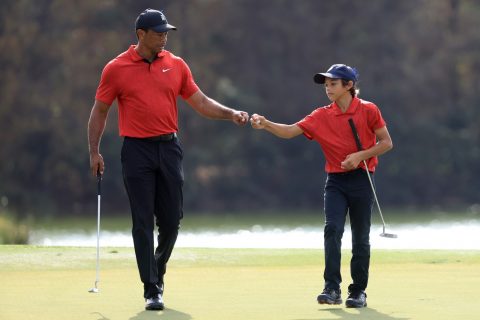 "I'm just happy and thankful that I'm able to do this," he said. "I still have my own leg, which was questionable for a while, and it's functioning. I'm just really tired – I'm not used to this.  I think this might be only my fourth or fifth round of golf this year. I'm a little worn out. It was nice to have a cart."
Team Woods carded a 15-under-par 57 in their second and final round at the Ritz Carlton Golf Course in Orlando. Woods said he and his son had set a pre-tournament target of playing two bogey-free rounds which they had achieved.

"We got on a run, which was great. Charlie was hitting the ball unbelievably well and made a few putts. It got interesting and a little tight toward the end, which was fun," he said.
Daly, 55, playing with his son John Daly II, closed with a birdie to finish on 27 under par.  The 36-hole total of 117 broke the previous tournament scoring record set by Davis Love III and Dru Love in 2018 by one stroke, and earned Team Daly the red-leather Willie Park winner's belts.
John II is currently in his first year of a golf scholarship at the University of Arkansas, his father's alma mater. The 18-year-old has been playing in the PNC Championship since he was 12.
"To watch him grow up to do the things he can do with a golf ball makes me very proud," said Daly. "He played phenomenal, and got us out of trouble when my putter was off, although I helped him with a few shots here and there!"