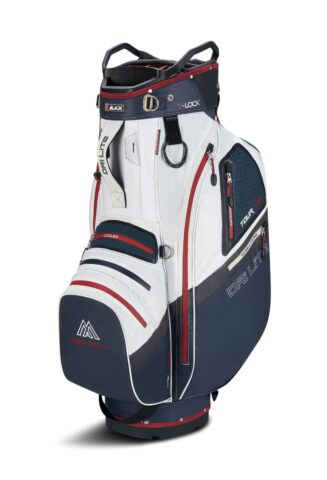 BIG MAX has added six new designs to its golf bag range for 2022, each of which has been created with the needs of different golfers in mind.
The Dri Lite V-4 features the BIG MAX V-LOCK Organiser that locks the top row of clubs in place. With a simple turn & lock action, woods – and their large head covers – lock in place, and the golfer who wants their clubs neat and tidy gets the clear view of their clubs that they want. Add in nine spacious pockets – including two cooler pockets and a 100% waterproof valuables pocket, plus 14-full length dividers, dedicated oversize putter well and glove, umbrella and towel holder, this really is the bag where everything has its place.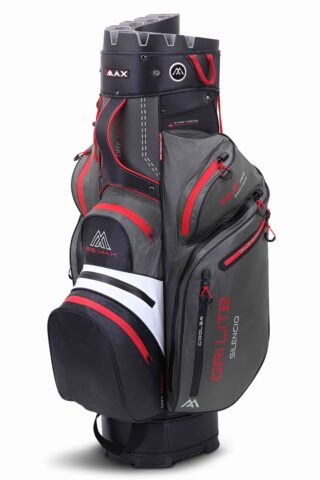 The Dri Lite Silencio 2 goes one step further, with specially designed secure compartments for every club that keeps clubs separate and prevents them knocking together while in transit. With a new putter compartment incorporated into the silent top, the Silencio 2 really does live up to its silent name. A total of 11 spacious pockets, including 100% waterproof valuables pocket, plus glove, umbrella and towel holder and oversize cooler, finish off this exceptionally organised golf bag.
The Dri Lite Tour combines the space and practicality of a Tour bag with BIG MAX's lightweight water-resistant technology. A 14-way, 10-inch oversize organiser top with full-length dividers and reinforced carry handles complements nine spacious pockets, including 100% waterproof valuable pocket, to deliver unbeatable storage options. Add in a host of neat practical features and a weight of just 2.4 kg and the Dri Lite Tour is perhaps the ultimate cart bag for the best equipped golfers.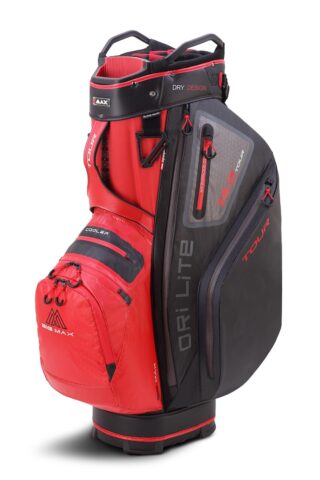 The Dri Lite Sport 2 is the ultimate deluxe cart bag, combining a huge range of practical features with stunning looks. A 14-way organiser top with reinforced carry handles combines with 7 spacious pockets, including 100% waterproof valuables pocket and oversize cooler pocket, to deliver all the storage the best equipped golfer could need. Glove, towel and umbrella holder and a weight of just 2.2kg finish off the practical advantages, while five colour combinations that utilise straight lines and contrast patterns finish off this fantastic new bag.
The BIG MAX Hybrid design is based on three features that make carrying or pushing equally simple. The trolley compatible footless base sits squarely on any trolley while offering a smooth, easy mechanism for deployment of the stand mechanism. This combines with a leg lock system and reinforced bag connection area that keeps the leg mechanism out of the way when in use on a cart and provides a secure, anti-twist connection for the bag.
BIG MAX is also introducing the Aqua Hybrid 3 and Dri Lite Hybrid 2 that both incorporate this versatile technology. Both bags feature seven pockets, reinforced padded strap and air channel for breathability when carrying. The Aqua bag weighs just 2.4kg, while the Dri Lite comes in at only 2.2kg. With different price points, individual styles and a range of attractive colour combinations both of these hybrid bags deliver the best of both worlds for golfers.
RRPS: Dri Lite V-4: £299.99, Dri Lite Silencio 2: £229.99, Dri Lite Tour: £219.99, Dri Lite Sport 2: £199.99, Aqua Hybrid 3: £249.99, Dri Lite Hybrid 2: £199.99.
For details of your nearest Big Max stockists or to buy online, visit www.uk.bigmaxgolf.com