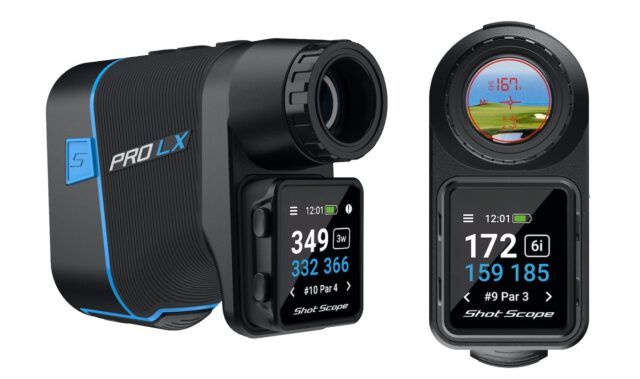 Golf News has teamed up with Shot Scope to give away its new PRO LX rangefinder, worth £329.99.

With Shot Scope's PRO LX+, golfers no longer have to choose between a GPS or a laser, as it provides accurate distances to the flag, dynamic GPS data, and performance shot-tracking all in the one device. 
The laser element offers seven-times laser magnification, a 900-yard range, and target-lock vibration. On the GPS side, it features 36,000 preloaded courses worldwide, with no added subscriptions or additional costs.
More than 100 performance insights are also available, every shot can be tracked using the 16 tracking tags provided, with golfers able to use either the free Shot Scope mobile app or web dashboard to analyse their games, with no added subscriptions required.
To find out more about Shot Scope's complete product range, visit www.shotscope.com.
QUESTION: 
Which of these key features is included with the Shot Scope PRO LX+?
a) GPS
b) Laser Rangefinder
c) Shot Tracking
d) All of the above
TO ENTER
To be in with a chance of winning this superb prize, simply answer the question above correctly and email your name, address and contact telephone number, and where you picked up your copy of Golf News, to [email protected], using 'Shot Scope Competition' in the subject line. The closing date for entries is April 30, 2022.